Hubsan H501S X4 High Edition Black FPV GPS 1080P 1Key Follow H501S-HIGH
click here for a spare battery
Auto Return Home Thanks to a GPS-backed navigation system, the drone is able to remember its "home," or takeoff, point. If connection is lost with the transmitter, Failsafe Mode will engage, causing the quadcopter to automatically return to the home point and land. You can also manually trigger Failsafe Mode via a switch on the transmitter.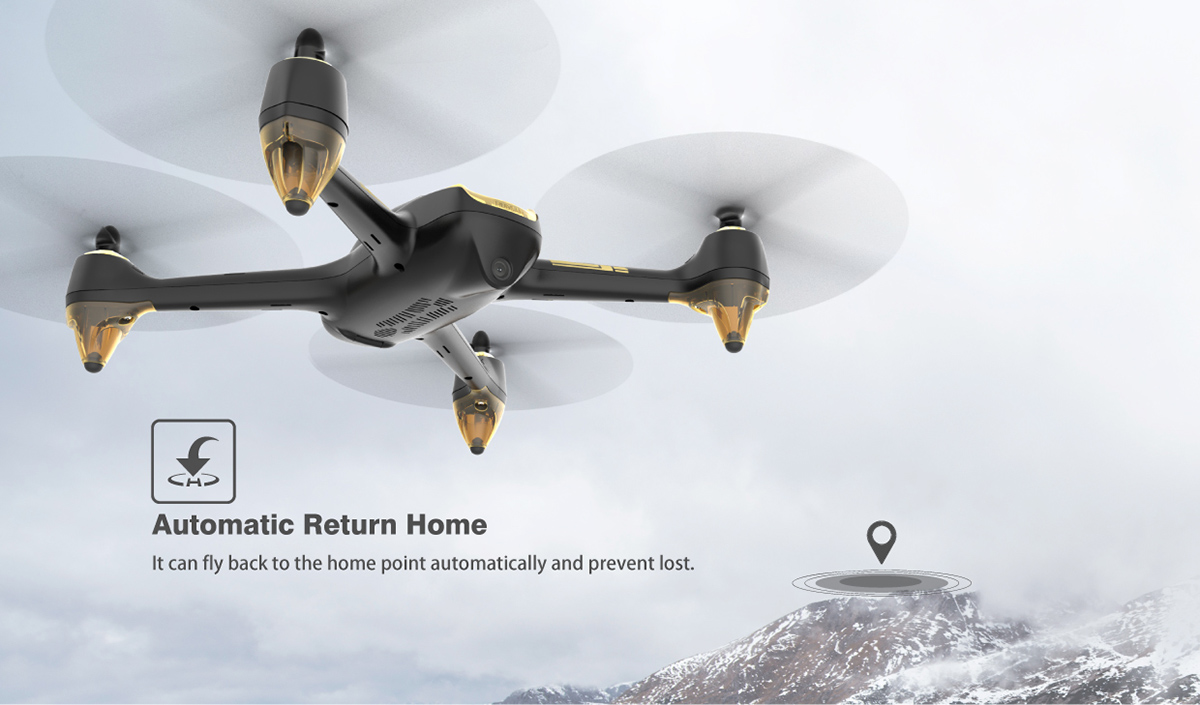 Long Control Distance The H501S High Edition now offers a expanded control range. Before the drone was limited to a max range of 300m however, with the upgraded transmitter and antennas the control range is expanded up to an impressive 450m.
Follow Me Mode In this mode, the drone will lock onto the position of the transmitter and track it. This is extremely beneficial when recording a moving subject that would be tricky to follow manually.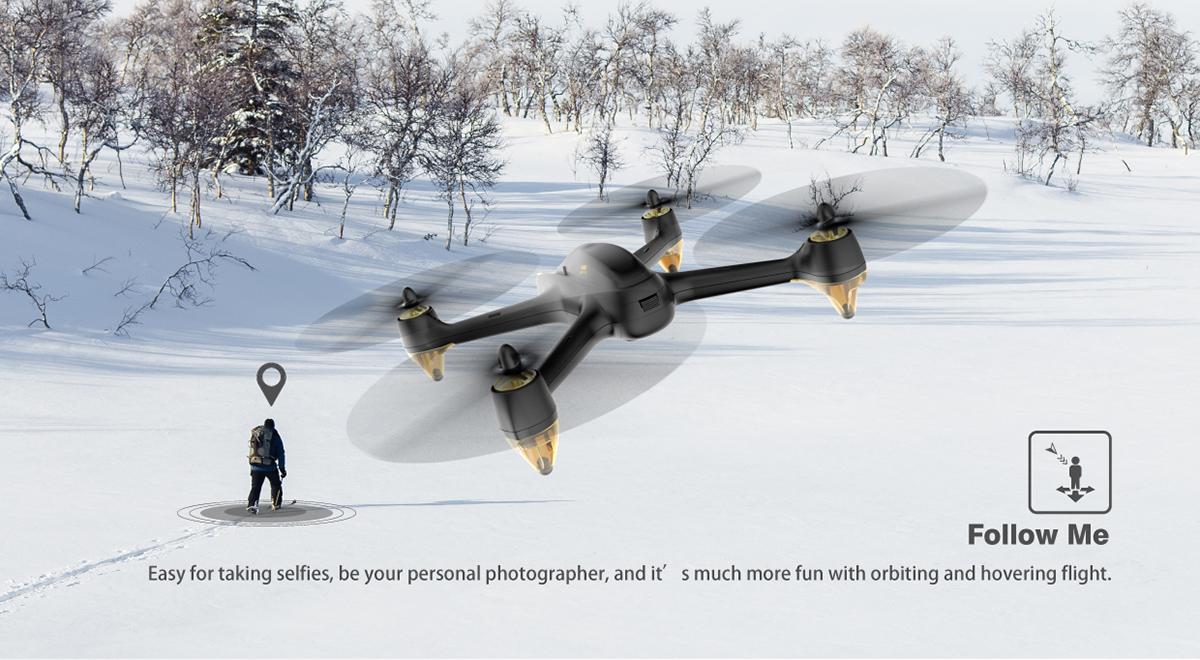 Altitude Mode In this mode, based on readings from a barometer, the drone will maintain a fixed altitude. Horizontal movement, as well as rotation (yaw), will still be enabled.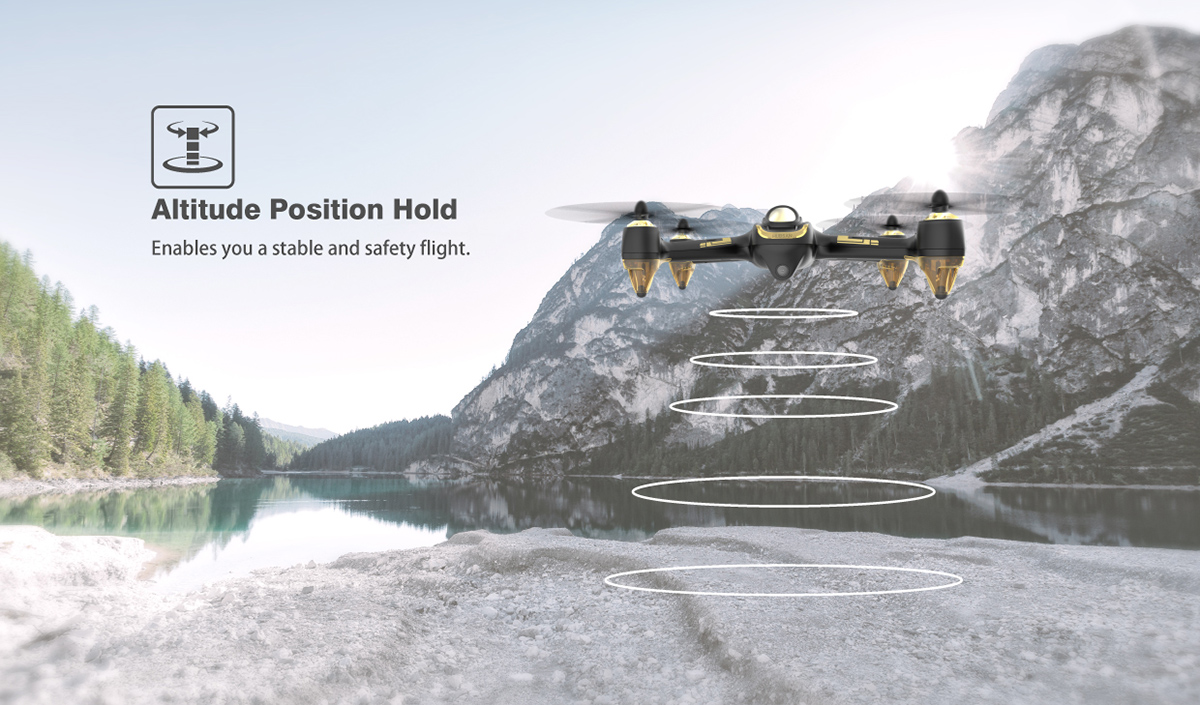 Headless Mode - Intuitive Orientation In this mode, there is no longer a defined "nose" and "tail." Instead, the aircraft always moves relative to the pilot – pressing forward moves forward, pressing left moves left, and so on. This keeps flying more intuitive, especially for beginner pilots.
FPV Transmitter with 3 x 2" Screen On the transmitter, you will find a 3 x 2" LCD screen that allows you to monitor real-time video from the FPV camera and will display vital flight telemetry data to keep you apprised of what is happening in the air. A 5.8 GHz link is used for the video signal, while control operates on 2.4 GHz to avoid cross interference.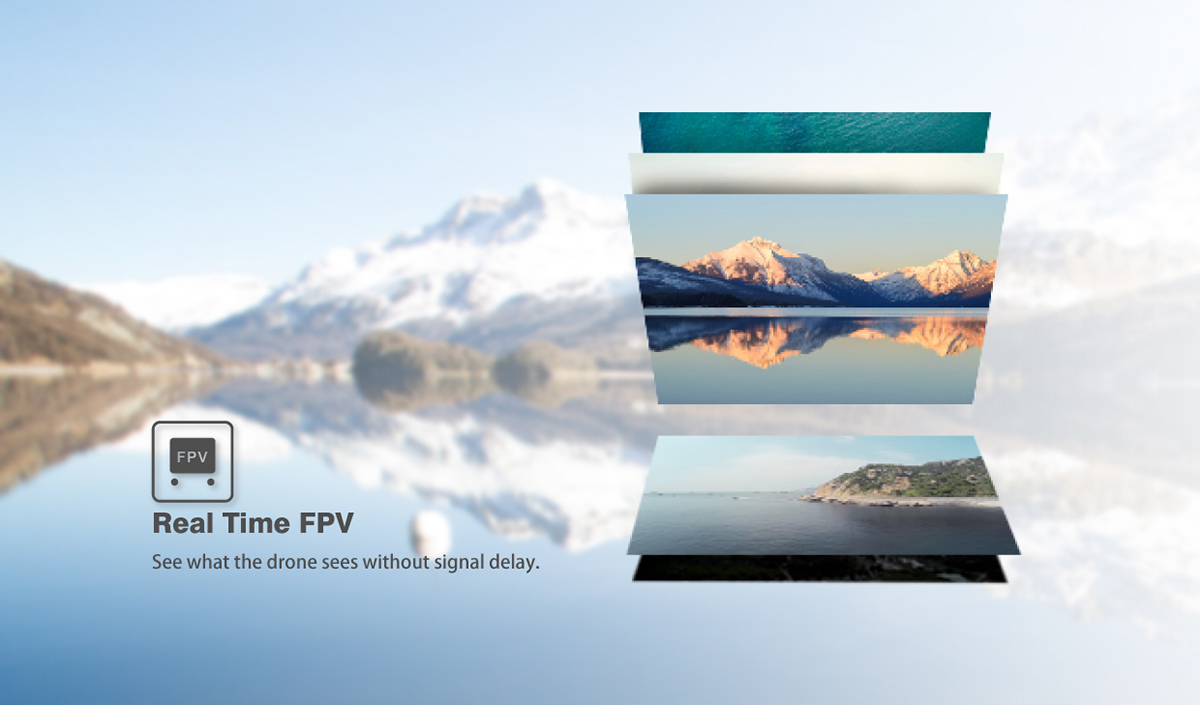 Brushless Motors Brushless motors provide better performance than their brushed counterparts. In addition, propeller attachment is self-tightening for additional security.
Features:
GPS-Based Navigation System
Max Control Distance 450m
Headless Orientation Control Mode
FPV Transmitter with LCD Display
Automatic Return Home Failsafe
Follow Me Function
Altitude Mode
Up to 20 Minutes Flying Time
Brushless Motors
Self-Tightening Propellers
Flight Battery and Charger Included
Includes:
1 x H501S Brushless RC quadcopter
1 x 2.4 GHz transmitter with LCD Screen
1 x 7.4V 2700mAh LiPo battery
8 x Propeller Blades
1 x Micro USB Cable
1 x AC Adapter
1 x Balance Charger
Specifications
Aircraft
Size (excluding Propellers): 8.66 x 8.66 x 2.75"
Including Propellers: 14.1 x 14.1 x 2.75"
Weight (including battery and propellers): 0.90 lbs (14.4 oz)
Max Flight Time: 21 minutes (0 wind)
Max Hovering Time:18 minutes (0 wind)
Overall flight time: 20 minutes ( In normal flight, 15% remaining battery level )
Max Flight Distance: 0.62 mi (0.99 km, 0 wind)
Operating Temperature: 32° to 104° F (0° to 40° C)
GPS Mode: GPS
Camera
Sensor: Effective pixels: 3 M
Still Photography Modes: Single shot
Video Recording Modes: 1080p (1920 x 1080): 24p, 25p, 30p, 48p, 50p, 60p
Max Video Bitrate: 60 Mbps
Photo: JPEG
Video: MP4(MPEG-4 AVC/H.264)
Supported SD Card Types: Micro SD™
Max capacity: 16 GB. Class 10 or UHS-1 rating required
Operating Temperature: 32° to 104° F ( 0° to 40° C )
Remote Controller
Frequency: Control: 2.4 GHz
Video: 5.8 GHz
Channels: 11
Display: 3 x 2", 640 x 480 resolution LCD
Max Transmission Distance: FCC Compliant: 450m (Unobstructed, free of interference)
Operating Temperature: 32° to 104°F (0° to 40° C)
Battery: 8 x AA
Charger
Power Requirements: AC (AC adapter included)
Voltage: 120 V
Intelligent Flight Battery
Chemistry: Lithium-ion polymer (LiPo)
Capacity: 2700 mAh
Voltage: 7.4 V
Power Requirements: AC (AC adapter included)
Charge Time: 150 minutes
Operating Temperature: 41° to 104° F ( 5° to 40° C )