FTX RamRaider 1/10 Brushless Monster Truck FTX5497RB
Ok folks, who's ready for some rip-roaring, ram-raiding off road bashing r/c fun? FTX's latest RamRaider 1/10th Monster Truck works with the established Rokatan chassis platform to deliver an exciting, fast and driv-able vehicle all in one complete ready-to-run package!
Powered by a Hobbywing 50A brushless speed control and 2500kv motor, coupled with the included Voltz 3S 3500mAh Lipo battery the RamRaider can reach impressive top speeds for its size, while still being very drivable on most surfaces. The rear mounted wheelie bar works to provide a sta-ble footing for those heavy accelerations when you light up the rear tyres.
Direct drive 4wd with slipper clutch, along with front and rear metal geared differentials and front CVA universal driveshafts help distribute the power to all corners
Oil filled aluminium shock absorbers along with a raised high clearance main chassis, with aluminium front and rear skid plates glide over most terrain effortlessly. Should you take a tumble, shock absorbing bumpers and moulded body roof and tail skid bar rails help protect from heavy damage when possible.
Aggressive pattern lug tyres mounted on stylish black spoked wheels deliver traction in abundance. Furthermore, if you are out so long having fun that the light starts to fade, fear not... the bumper mounted LED lights and LED roof bar will light the way!
Features
2.4ghz Radio System
3652 KV2500 Brushless Motor
Waterproof 50A Brushless Speed Control
Waterproof 10kg MG Steering Servo
3S 30C 3500mAH LiPo Battery
LiPo Balance Charger
High Ground Clearance Tub Main Chassis
Front & Rear Aluminium Chassis Skid Plates
Shock Absorbing Front & Rear Bumpers
Pivot Ball Front Suspension
Aluminium Oil Fill Shock Absorbers
Adjustable Suspension Turnbuckles
Full Ball Bearings
Receiver Box
Sealed Drivetrain with Slipper Unit
Alloy Hinge pin Braces
Metal Bevel Geared Differentials
Front Universal CVA Driveshafts
LED Roof Lightbar and bumper lights
Stylish Impact Printed Body Graphics
Moulded Roof and Tail Skid Bar Rails
Wheelie Bar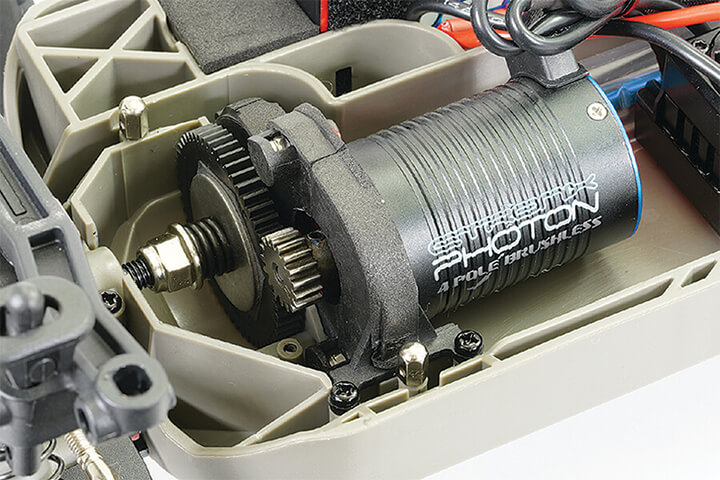 Sealed transmission with removable cover and slipper clutch for drivetrain protection.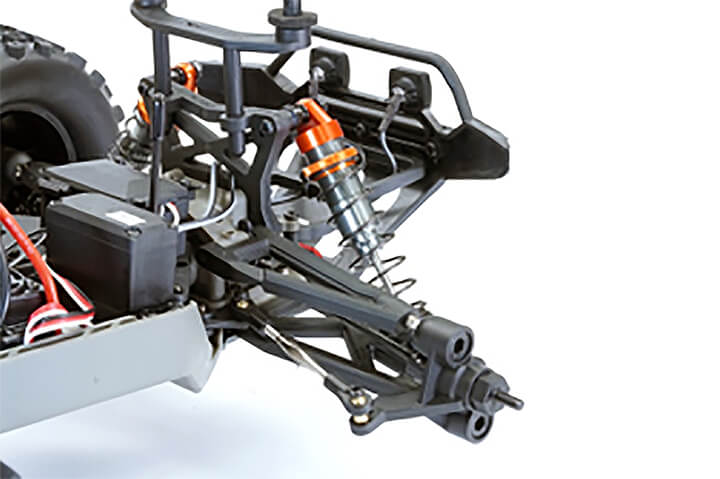 Long throw adjustable double wishbone pivot ball front suspension.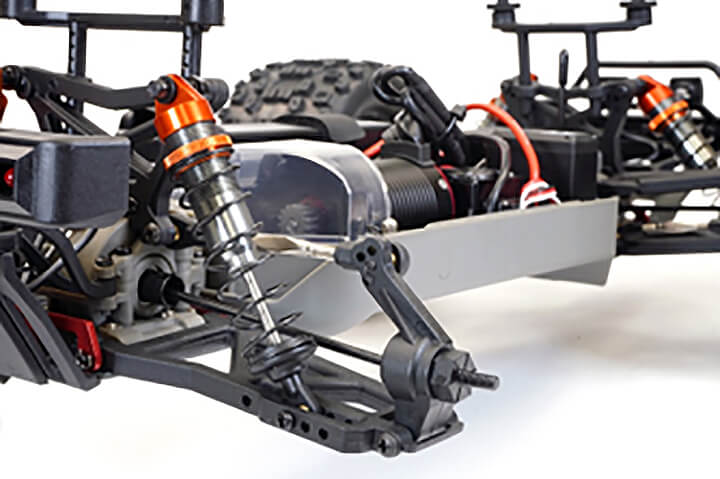 Long throw oil filled shock absorbers. Adjustable turnbuckles.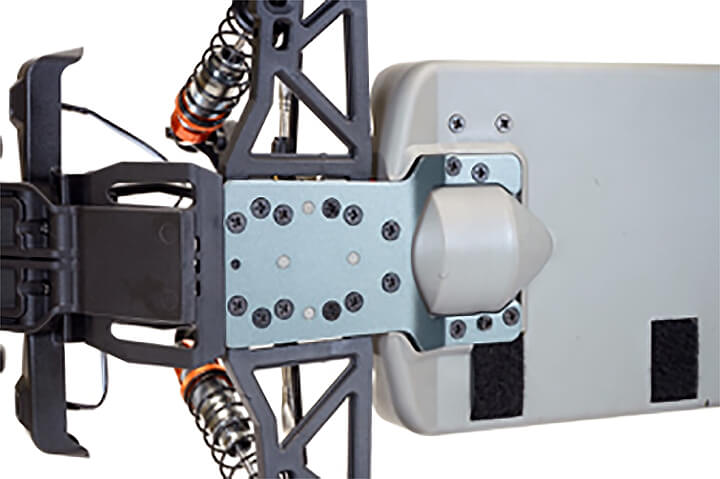 Front and rear lower chassis aluminium skid plates.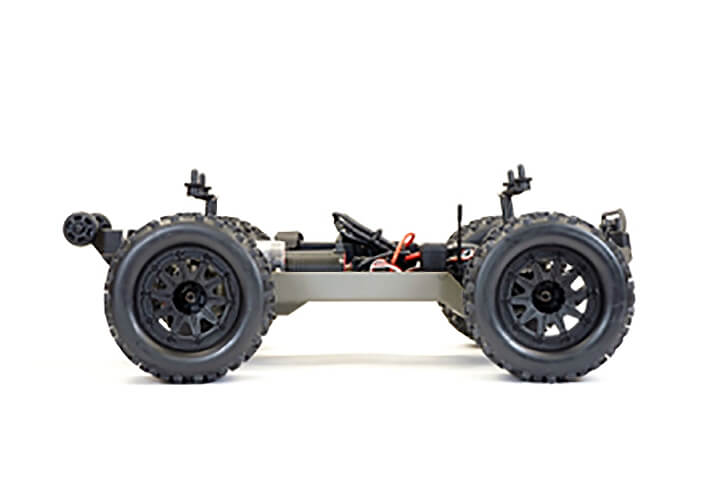 Raised chassis for higher ground clearance. Front and rear impact absorbing moulded bumpers.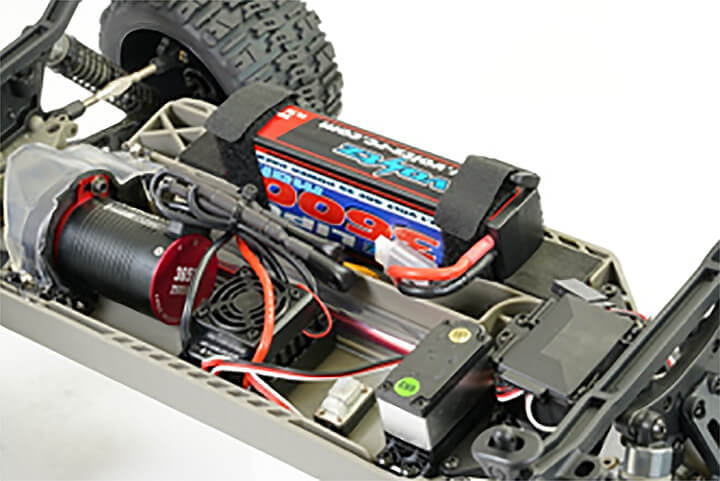 Etronix 2500kv brushless motor, Hobbywing brushless speed control and Voltz 3S 3500mAh LiPo battery provide speed and power.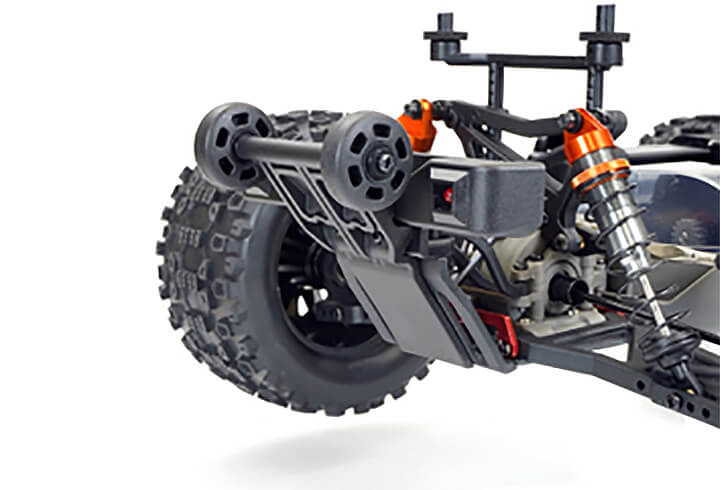 Rear wheelie bar.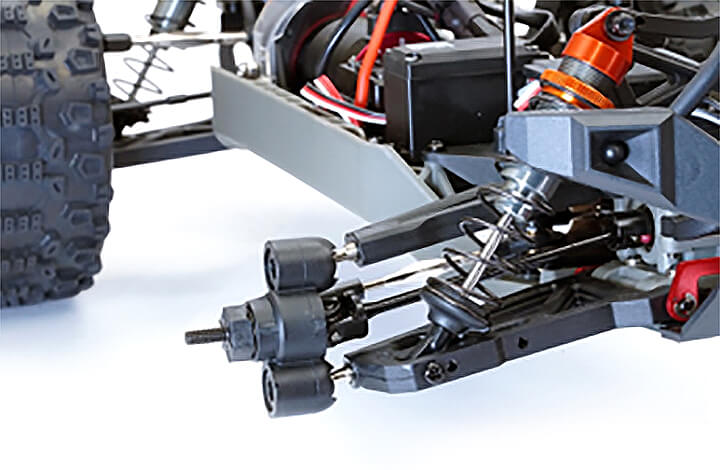 Front Universal CVA Driveshafts.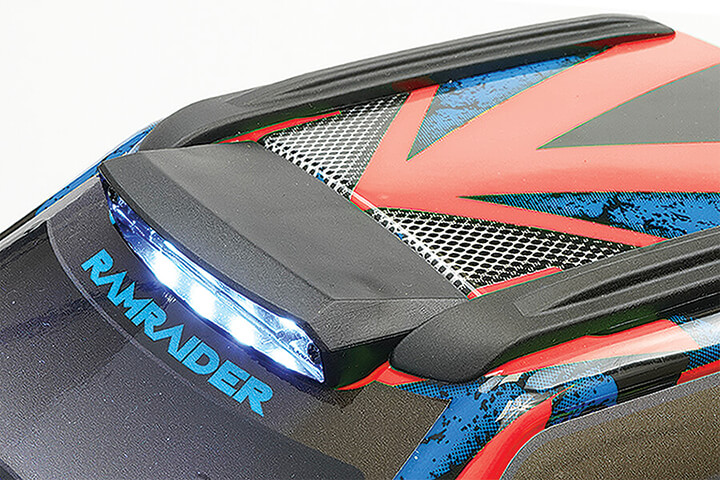 Roof mounted LED light bar and moulded skid rails.
SPECIFICATIONS
Length: 480mm
Width: 350mm
Height: 200mm
Wheelbase: 270mm
Tyre: ø 125 x 70mm
Gear Ratio: 8.3:1
REQUIRED TO COMPLETE